There are four different collections in the Amarr Traditional Garage Doors line
The other lines of the brand offer units in carriage house style and modern aluminum models. In the Traditional range, you can find doors with different structures and panel designs. The common thing that they share is the steel make.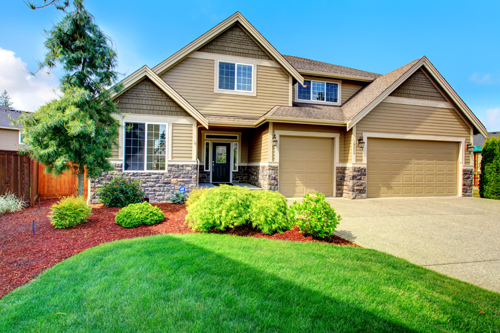 The doors in the Heritage collection are made of heavy-duty steel. There is a choice between four panel designs. There are three structure options: a single layer of steel, a layer of steel plus a polystyrene panel with vinyl backing or two layers of steel with polystyrene between them. The latter structure gives you the highest R-value which is 9.05. The Lincoln collection offers the same make and the same structure options as the Heritage one. It offers models with flush and ribbed panels as well as raised ones. There are 19 window designs to pick from.
The most popular design options in the Stratford collection are the short and long raised panels. These doors are made from steel with standard gauge. This is the primary reason why the models with triple-layer structure have R-value of 6.64 rather than 9.05. There are only two panel designs available with the Olympus collection. However, it offers the doors with the highest R-value (19.40) in the whole range. These particular units have two layers of heavy-duty steel and polyurethane foam filling between them. This insulating material has very high natural thermal resistance. Besides, it fills the entire hollow space fully.
All Amarr traditional garage doors come with heavy-duty hardware. Most models are designed to prevent finger pinching. It is up to you to pick the design and color.